Thank you NFL for sponsoring this post. Can't wait for my next Homegate!
I am so excited to share my favorite party yet! I love entertaining, and football season is one of the best reasons to get together towards the beginning of the year. Even if it's cold outside, you can still luckily bring the spirit of the game into your home with good friends and good food.
We are always so excited to cheer on the Steelers, with friends and fans nation-wide and locally. I tend to go all out when decorating for parties (not even joking at all), and I was incredibly inspired by the team colors, so I incorporated Black and Yellow in as many ways as possible. Keep reading to learn how to host the VERY BEST and most elegant Homegating party ever.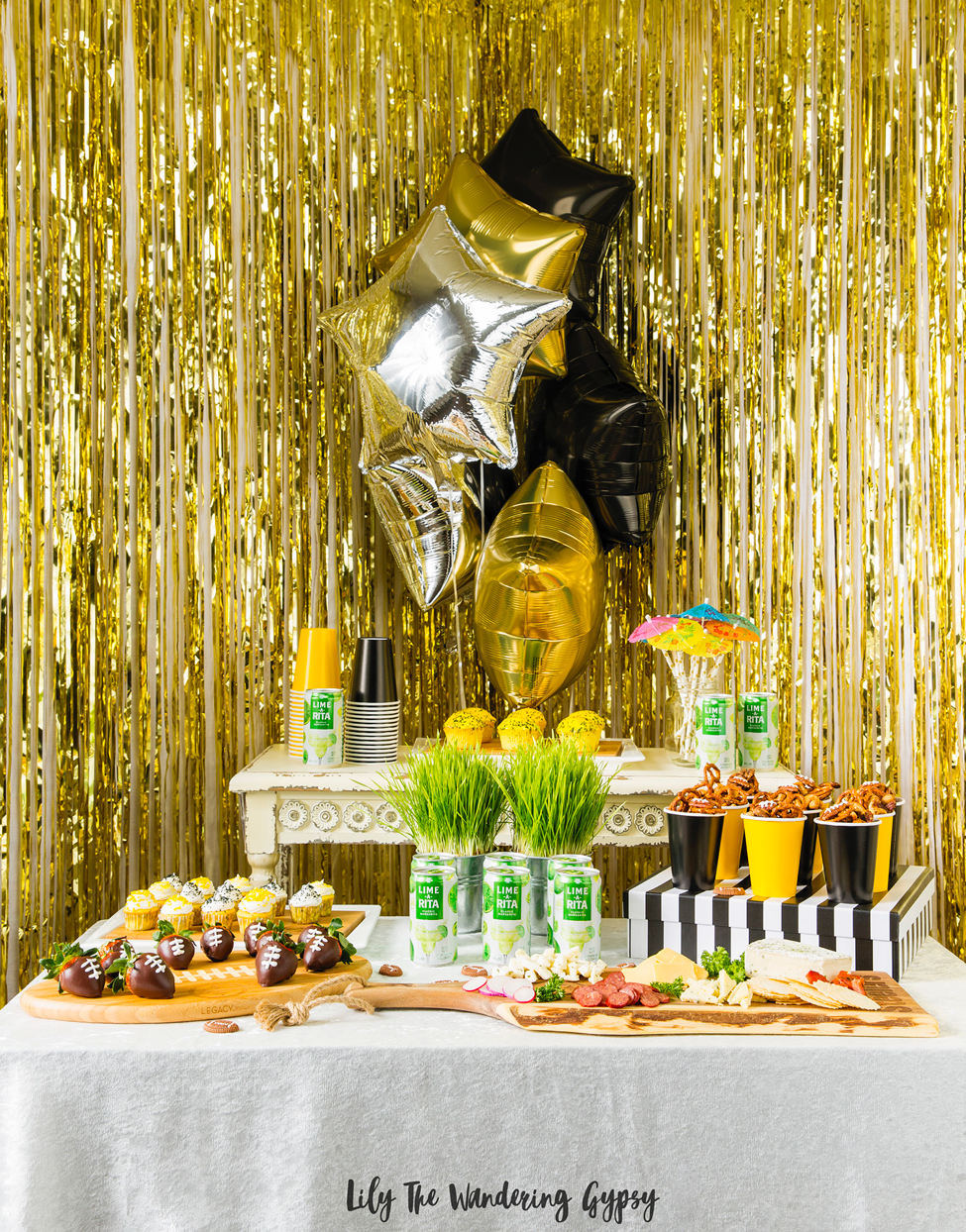 NFLShop.com, which has gear for every single team, sent me a huge array of amazing Homegating items like high end cheese boards, team logo glasses, and even a few items like blankets and the softest Steelers tee I have ever worn. Everything is so perfect for parties and general entertaining. Now I can even incorporate nicer plates and boards into my regular meals at home too!
I will definitely be serving foods and drinks on these items for every party I have this year and for many years to come. I have been using a few of the items almost daily, actually, and I loved being able to upgrade so many of my glasses, cutting boards, and party platters.
I am SO happy with how high quality these NFL items are, and I think you will be as well! The plates and platters that you display your food on can really elevate them. After spending so much time preparing food, it's so fun to see it all displayed so elegantly on
This also adds a more upscale look to your table that guests will talk about (and share on social media) for years to come!
I have never had the chance to incorporate so many amazing items into one party, and my friends and family were beyond excited for me to have such an incredible opportunity to collaborate with NFL and Lime-A-Rita to host this upscale, elegant Homegating Party. Every last detail was considered, and I worked for days to get everything just right. Hopefully this post will help you streamline the process.

You can see the entire collection of homegating gear from the NFL Shop here!. NFL has everything you need to host in style. Their collection of homegating-ready merchandise makes it extremely easy to create a streamlined look and feel to your party without having to run all over town to try to find matching décor. I was not even able to find many high-quality football items locally anyway, so I was very happy to find everything conveniently in one place! Hooray for making life easier.
Some of my most cherished memories are related to watching the game with family when I was younger, then friends as I got older. We always appreciate team spirit, no matter who you're rooting for. – it makes it way more fun if we have fans of different teams at our house.
Homegating is a fun way to bring the energy of an NFL game right into your own home! I use any excuse to decorate and entertain, and I was ecstatic to bring to life, a few ideas that I had been excited to try for years now. For instance, the chocolate dipped strawberries that I decorated to look like footballs turned out so well and they were probably one of my guests' favorites. They were actually way easier than I could have ever expected. I have seen similar ideas from high-end berry companies online, and I thought it was time to try my hand at them. I started with the prettiest, largest strawberries I could find. I often search a few different stores if I am not happy with what the first store has. After that. I melted semi sweet chocolate (dark chocolate would be amazing too). Working with one strawberry at a time, I stuck a skewer stick into
When I chose my cheese for my cheese boards, I looked for cheeses that contained herbs and seasonings, or those that had green wax on them, so that I could tie in as much of the natural green color as I could. I always add a bit of curly parsley as a garnish to my cheese boards, you would not believe how much it adds to the vibrancy of the boards.
SUPPLIES NEEDED - FOOD:
RECIPE: Chocolate Dipped Football Strawberries
1 container of strawberries, 1 bag of semi sweet chocolate chips, 1-2 skewer sticks, and 1 tube of decorator white icing (found near the cake mixes in the baking aisle). Simply dip strawberries in chocolate (use a skewer to hold the berries if you want. Set each strawberry down onto a lined baking sheet, with the prettiest side up (making them resemble a football). Once cooled completely, draw one line up the center of the berries with icing, let that dry, then come back and add three football threads horizontally across each strawberry.
RECIPE: Lemon Poppyseed Cupcakes
1 lemon cake mix and ingredients listed on box, 5 Tbsp poppy seeds, 1 container or vanilla icing, yellow food coloring, yellow and black sprinkles.
TO PREPARE CUPCAKES: I prepared my cake mix like the box instructed, but thought that adding some black poppy seeds would be a creative way to incorporate the black and yellow team colors! I added some of the poppy seeds into the batter, and after I filled my cupcake liners with batter, I sprinkled a generous amount of poppy seeds on top of the batter before going into the oven. This really elevated the cupcakes! To decorate them, I used a star icing tip, and simply piped the vanilla icing onto the cupcakes once they were cooled. I also sprinkled 2/3 of them with yellow sprinkles, and 1/3 of them with black sprinkles. If I could do this over, I would have actually used poppy seeds instead of black sprinkles, because that would have been even more elegant and unique.
RECIPE: Sweet + Spicy Mixed Nuts + Pretzels
Wow! These were the perfect snack for a football party. I also added white icing to resemble football laces onto a few pecans, and put them on top of the cups when I served them.
INGREDIENTS:
5 cups of assorted raw nuts (Cashews, Almonds, Brazilian, Macadamia)
2 tablespoon butter
2 teaspoon salt
2 tablespoon rosemary, finely chopped
1 teaspoon cayenne or chili powder
1 teaspoon cinnamon
1/2 teaspoon cumin
3 tablespoon brown sugar
1 tablespoon olive oil
DIRECTIONS:
1. Preheat the oven to 375º. In a large bowl, toss assorted nuts with olive oil and spread them out evenly onto a baking sheet and bake for 10 minutes.
2. In a small saucepan melt butter and combine rosemary, cayenne, cinnamon, cumin and brown sugar until dissolved and combined.
3. Add mixture to warm assorted nuts and toss until well combined. Then add salt. Allow nuts to cool and enjoy or store in air-tight container.
I had nearly all of the ingredients already, which meant I could make them a day ahead of time, store them in an air-tight container, then serve them in paper cups in black and yellow – team colors! Feel free to customize any team colors you want. I found my paper cups at a local party store and thought that they really tied the party table together. You could of course serve drinks in them, but I love being able to offer guests snacks that are portable and easy to eat.
Make sure to let guests know that this recipe is spicy, or feel free to offer one spicy option, and one non-spicy option, such as brown sugar, butter, honey, and maple
SUPPLIES NEEDED – PARTY DECOR:
NFL Items in this post include: Steelers Coasters, Stemless Wine Glasses, Circo Cheese Board & Tool Set, Enigma Platters, Bamboo Touchdown (Football Shaped) Cutting Board, and the 24" Artisan Acacia Serving Plank.
Additional decor items include:
Gold door tinsel curtains (it took 4 of them to cover a corner of my room).
Tables and white table coverings. I find that stretchy crushed velvet is the most affordable and does not really wrinkle. It's generally $6-8 per yard at a craft store.
Black and yellow paper cups to hold Sweet and Spicy Nut Mix, napkins, and utensils for guests to use.
To display the cups, I found a cute black and white striped photo storage box at a craft store, which represents the referee, that raised the snacks up off of the table to create visual interest. I have seen people incorporate stripes into their football parties before, but I have never seen this idea before, and it cost me under $4.00 The box will perfect for storing party supplies for the next Homegate we host. I can't wait!
In addition to the rough edge cheese board / cutting board, I absolutely LOVED the round cutting board, shown below, with the pull out utensil tray. This was the most elegant and useful items I have ever been blessed to use for a party, and when I showed it off to friends at the party, I got lots of "oohs and aahs"! That is so rewarding.
Shop your favorite football gear on NFLShop.com/Homegating
MORE PARTY DETAILS:
One idea I've had for a while and could not wait to execute was incorporating wheat grass into my décor for a football party! I love how it represents the turf and also added a natural element that coordinated so perfectly with my décor.
I found two containers of wheat grass at a local health food store, and replanted them into small, galvanized metal buckets. While it would have been fun to try to make a game day green smoothie out of it, I thought that the Lime-A-Ritas were WAY more delicious :) I did make a delicious "Island Time" cocktail from a few simple ingredients! Keep reading to get the drink recipe.
DELICIOUS DRINK RECIPE
Each drink contains: 4 oz. Lime-A-Rita + 4 oz. Seltzer, a splash of grenadine, and a lemon garnish on each glass. That's it! This drink is super tasty, and went down very smoothly.
Also, follow Lime-A-Rita on Instagram Here!
I was selected for this opportunity as a member of CLEVER and the content and opinions expressed here are all my own.