Learn how to make this summer's hottest DIY idea!
Read More
Apples are such a huge part of the landscape and economy here in southern Illinois, and I love how versatile apples can be - in recipes, decor, and DIY projects. Have you created anything from apples lately?
You may remenber my Baked Apple Donuts that I created for this apple-themed post roundup for #SoFabSeasons.



One of my favorite things that brings up memories of fall is Apples! Do you remember apple picking with your family? How about all of those those tasty fall recipes for everything from fresh apple fritters to hot apple cider! We are excited to share with you this collection of amazing apple themed posts from many of our outstanding members here in the Social Fabric community. We know that you will enjoy them and hope that you can create some new fall memories for yourself and the ones you love.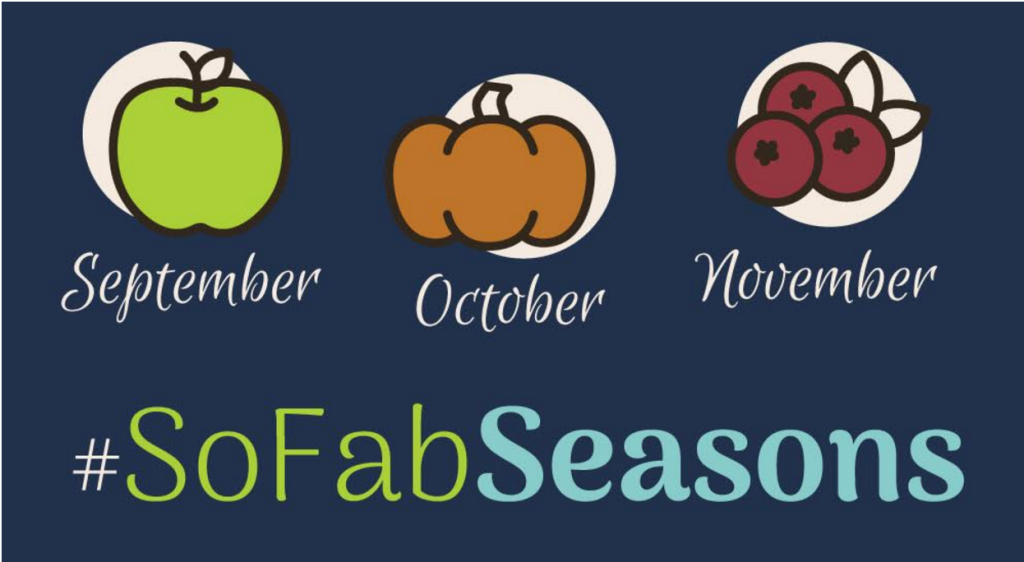 DESSERT RECIPES (* denotes recipes used in graphic)
*Lily the Wandering Gypsy -
Fresh Apple Donuts with Bacon, Caramel Pecan Glaze
Home and Garden Cafe -
Apple Pie Coconut Ice Cream
*Joy's Life -
Apple Pie Dessert Pizza
*Kitchen Concoctions -
Toffee Apple Pie Cookies
The Bandit Lifestyle -
Delicious Apple Fritters Perfect for Fall
Roasted Beanz -
Easy Crustless Almond Raisin Apple Pie
Wondermom Wannabe -
Clean Eating Apple Crisp with Caramel Sauce
Anti June Cleaver -
Mini Dutch Apple Pear Pie to Get You Ready for Fall
Basic N Delicious -
Apple Cinnamon Bundt Cake
Mostly Homemade Mom -
Caramel Apple Pie Fudge
Little Blog in the Country -
Pressure Cooker Canned Apple Pie Filling
Diana Rambles -
Apple Spice Dump Cake
The Tip Toe Fairy -
Apple Plum Skillet Cobbler
Five Marigolds -
Sweet and Savory Salted Caramel Apple Dip
Intelligent Domestications -
Apple Cinnamon Roll Cake & Apple Cream Cheese Icing
Home Maid Simple -
Easy Apple Crisp
More or Less Cooking -
Best Apple Fritter Coffee Cake
My Big Fat Happy Life -
Skinny Caramel Ice Cream
* An Alli Event -
Apple Bundt Cake with Praline Frosting
Tobin's Tastes -
Caramel Apple Cheesecake Dip
Ginger Casa -
Delicious Apple Cranberry Pecan Crumble
Sweet Sensations -
Apple Cobbler with Oatmeal Muffin Crust
A Labor of Life -
How to Make Delicious Apple Roses
Julie Is Coco and Cocoa -
Fried Cinnamon and Sugar Apple Rings
Polka Dotted Blue Jay -
Mini Carmel Apple Bites
Finding Sanity in Our Crazy Life -
No Bake Oatmeal Apple Pecan Cookies
Being Tazim -
Strawberry Apple Crumble Vegan and Dairy Free
Upstate Ramblings -
Caramel Apple Cake
Rebecca Lately -
Baked Apple Recipe
Simple Food 365 -
Light and Fluffy Apple Cinnamon Coffee Cake
Mama Plus One -
Homemade Apple Cider Donuts
Bento Lunch (dot) net -
Caramel Apple Pudding Parfaits
MORE APPLE RECIPES
Broken TeePee -
Salmon and Rice Noodles on Apples, Carrots & Zucchini
Revel & Glitter -
Autumn Cranberry Apple Pear Salad
* Happy Go Lucky -
Bacon Cheddar Apple Dip
Honest and Truly -
Delicious and Easy Mini Apple Pancakes
Smiling Notes -
Healthy Apple Pie Oat Pancakes
Creative Southern Home -
Apple Bread
Beyond Mommying -
Apple Bacon Grilled Cheese
Momcrieff -
Apple Pancake Rings for Breakfast or Snack
Tiaras and Tantrums -
Favorite Autumn Apple Snacks
Injenious Life -
Gluten Free Applesauce Muffins
Everyday Party -
Simple Caramel Apple Cider
A Paper Arrow -
Apple Bread for the Fall
Happy and Blessed Home -
Delicious Apple Recipes
Mom Saves Money -
DIY Dehydrated Apple Rings
Gluesticks Blog -
Baked Apple Chips
Life With Lorelai -
Caramel Apple Crumbly Bread Recipe
Ava's Alphabet -
Baked Apple Pancake
Life with Lovebugs -
Spiced Applesauce and Oatmeal Muffins
For the Love of Crust -
Homemade Crockpot Apple Cider
Oat & Sesame -
Maple Your Applesauce
Southern Mom Loves -
Cheddar and Apple Goldfish Snack Mix Recipe
My Life Cookbook -
Cinnamon Apple Breakfast Bread (Gluten Free)
ACTIVITIES
Tales of Mommyhood -
Apple Picking Favorite Family Activity
Mama Luvs Books -
Apple Picking in Rhode Island
Kori at Home -
Apple Tot School Unit with FREE Printables
Jenny at Dapperhouse - DIY Apple Basket Sorting Game
To & Fro -
Tips for Apple Picking with Your Family
CRAFTS
Little Mama Jama -
Apple Stamping Sensory Activity for Preschoolers
Creative Ramblings -
Fabulous Fall Wood Apple Sign
Woods of Bell Trees -
Quilted Apple Pillow
For What It's Worth -
Apple Themed Party with DIY Apple Craft
The Kennedy Adventures -
Paper Plate Apple Craft
Babs Projects -
Apple Scented Potpourri Pouches
Great Contradictions -
Apple Themed Candy Bar Wrapper Printables
BEAUTY
* Momerish -
Apple Pie Sugar Scrub Perfect for Fall Pampering
Can you believe all these incredible Apple themed posts? Bookmark this page so you can come back and try out all the recipes, crafts and activities with you and your family!
Check back next month when Social Fabric features posts with a pumpkin theme. You can always search the hashtag #SoFabSeasons to find more of what you're looking for!
I had SO much fun in New York City last weekend. I was recently working a fun content creation project for Skype, where I shared my Halloween Party Tips and DIY Ideas! This was my first time to New York City (we did visit years ago for like 2 hours, but this was completely different...)
So, the images I created for Skype can be found HERE. I had SO much fun creating some holiday content, as this was one of the first projects I have done of this nature. Halloween Tips and Tricks are some of my absolute FAVORITES, so I had a really great time! I also helped with a Pinterest Board (here), and I helped lead a fun, Skype Group Chat (search SkypeHalloween to find us!!).
One of the best parts of this project came at pretty short notice. Skype personally invited me out to New York City, to help coordinate a Halloween party for The Lower East Side Girls' Club of NYC! Pretty incredible and practically unbelievable. What an amazing opportunity! I am still so fortunate I was the one chosen for this whole thing. I had an absolute blast, my hotel was amazing, I ate some of the best food in my life (and I've eaten food all over the country!!), met some wonderful people, and helped some really amazing kids have the Best Halloween Party Ever!
I also learned on this trip, that the earlier you get to the airport, the less stressful your whole trip will be! This really worked out so well, without really any problems!
DAY ONE - Sticky Rice Thai Food + Top Hops
View more photos from Day One, below! I ate at StickyRice, drank craft beer at Top Hops, and stayed at The Holiday Inn - Lower East Side (it was super nice and newly renovated).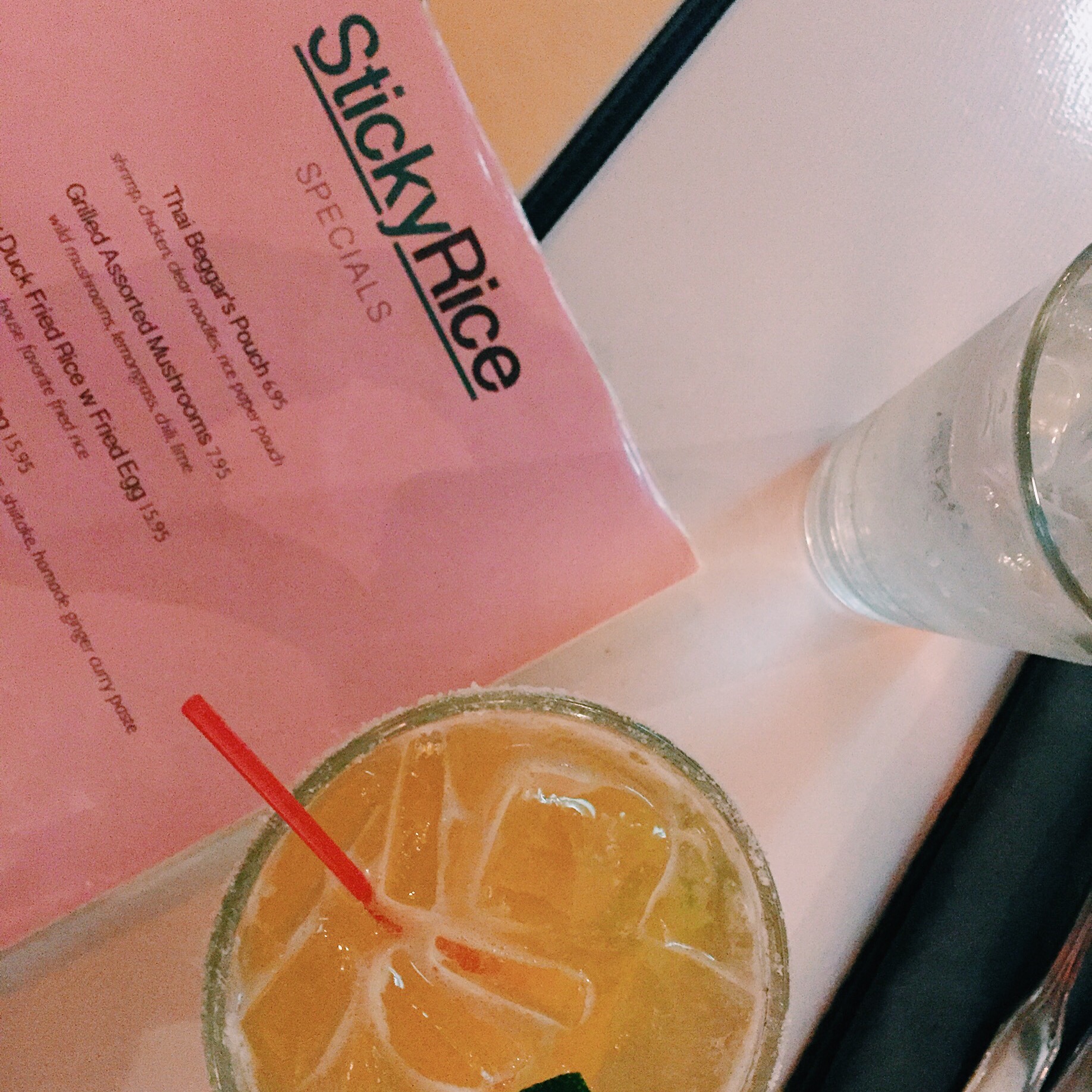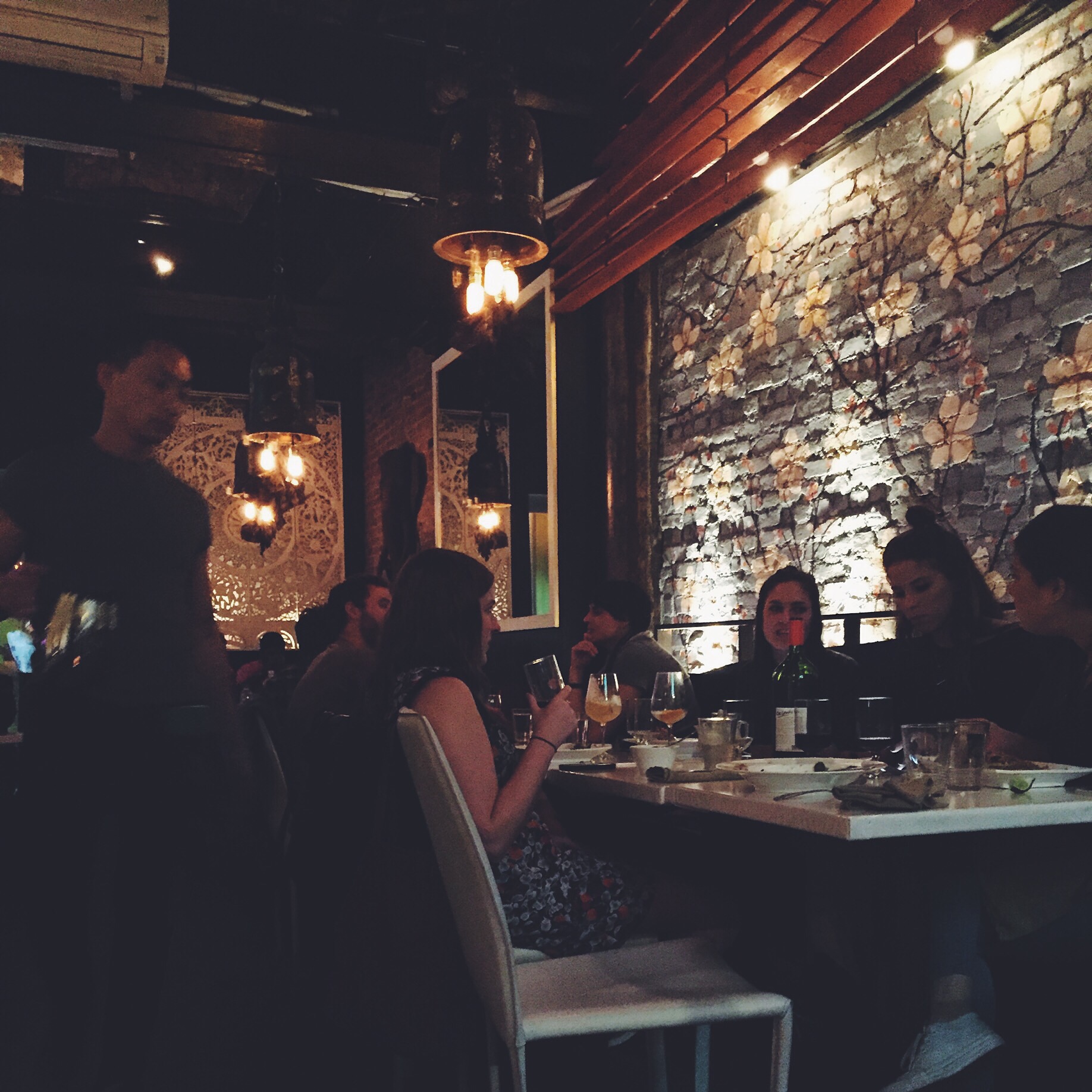 DAY TWO - LOWER EAST SIDE MURALS + ARIEL'S LATIN BISTRO + PARDON MY FRENCH
Check out the slideshow, below, to see my mural sightings and awesome NYC food! If you're in the area, I would definitely recommend Ariel's Bistro for lunch and a $5 strawberry margarita, and Pardon My French for a super fancy date night. The whole Skype team was so wonderful to take me out for dinner and cocktails after the Halloween party.
THE SKYPE HALLOWEEN PARTY
So, the main reason I was there was, of course, The Skype Halloween Party at The Lower East Side Girls' Club! The girls absolutely LOVED the party, there was a DJ that played spooky beats, I hosted a craft table featuring Tissue Paper Pumpkins filled with CANDY. Once the candy ran out, the girls practically disowned me :) The whole party will be made into a couple of short movies that will feature yours truly for a short bit, helping the girls make pumpkins, and also myself chatting with influencers from YouTube, Twitter, and Instagram! It all went super well, and I had a blast! It was incredible giving back to the community in this way, and hopefully inspiring the kids!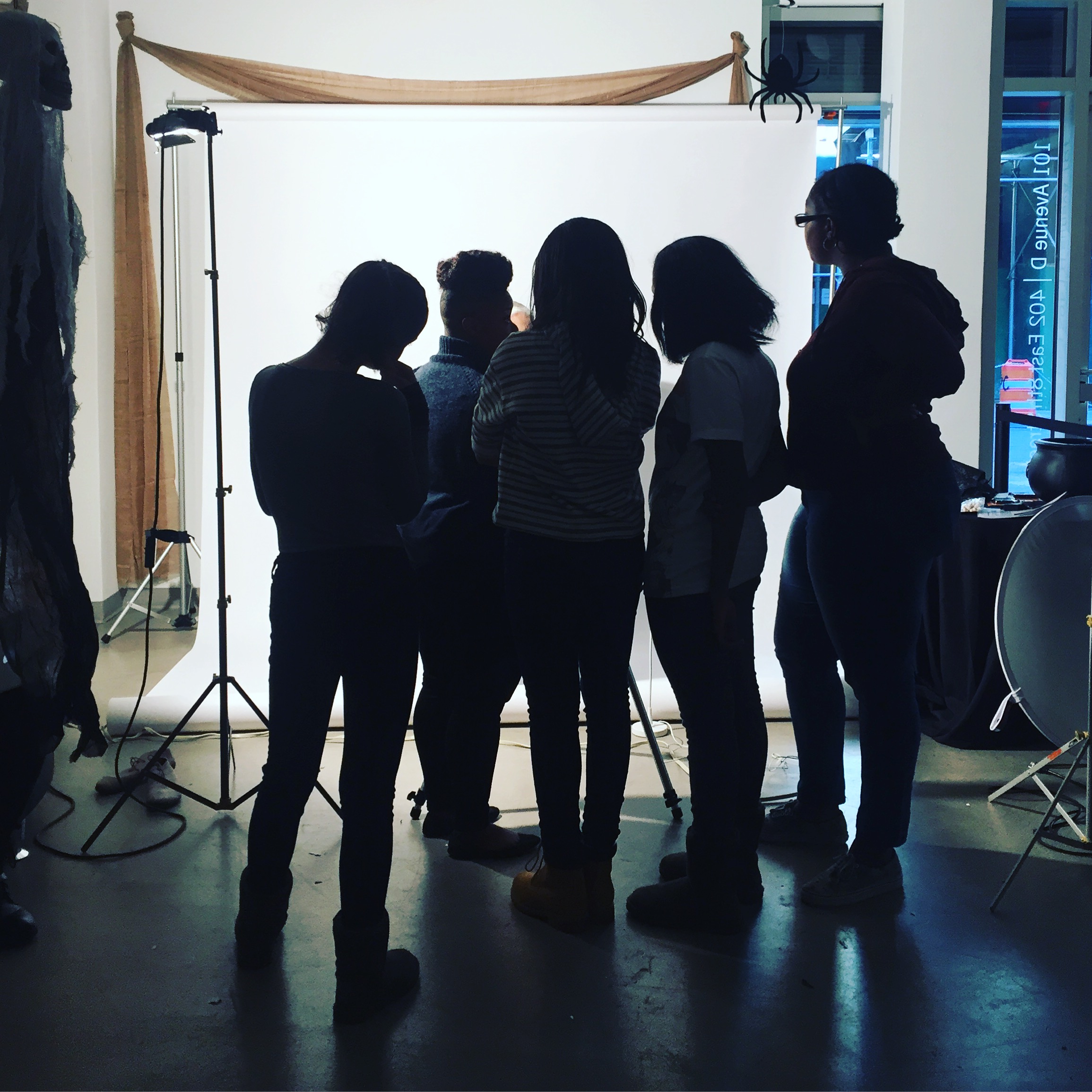 Until next time! NYC, I really had fun, and hope to be back soon! A very special thanks to HelloSociety and Skype for helping make this project an absolute success!!!